As intended, here be the screenshots… bblean is the shell, 'joeblade' is the name of the skin (i don't remember where i picked it up.. but it's one of three-four that i especially like.. i'm rather comfortable with this one though.) (be warned.. the three of these open up full-size (the first three are 1600×1200))
As I'd said, there are four available 'desktop screens' with bblean… i'm pretty sure this is a unix design.. so both the screenshots here are taken in the same 'session', but different panels/desktops.
i do like the transparencies that are optioned all over bblean's menus… the menus could have a few additional options built in, such as 'sort by date' and such.. but i tend to use the 'command line' plugin that's up in the top left corner. it's not really a command line, but will respond to shortcuts that i plan in a text document. so i have 'qq' goes to my folder of 'quick launch' icons, and 'winamp' opens winamp, and 'video' opens my folder of videos… etc.—it's a really long text document at this point.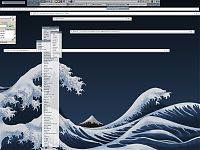 i depend on the system resource display up in top left to gauge when my system is memory leaking or some app is hogging anything… if so, i call up task manager and hard-kill. that IP address is incorrect, but i never notice it anymore. my aim/chat utility generally goes up in the top right (i fluctuate between miranda and gaim and original aim (i do run my msn accunt on the former two, but hard-uninstall (can't do it through normal add/remove programs option) msn messenger from my computer every time i install windows—i abhor programs that open when i don't tell tell them to, attach themselves to other programs (outlook) despite my objections, and run background processes with no reasonable way to shut them off. this is also why i've killed itunes from my machine (twice) and will not be quick to bring it back)).
what else… i run a destop wallpaper rotator.. usually changes every minute (or whatever setting i set).. lately i've just kept this wallpaper up though. i don't know where i got it.
i wanted to show you a screenshot of my desktop pre-bblean. i relied heavily on icons..i don't really miss them anymore in terms of navigation and productivity, but they were pretty and novel. that screenshot is a year old, though.. at one point, i was running two instances of the icon dock… one vertically on the left and one on the bottom (different icons in each, of course).. and that was pretty functional and pretty pretty, but the truth is that all these docks and stuff are add-ons, and every add-on is just one more thing to use resources and one more thing to crash. without the docks, i came to rely pretty heavily on no less than three rows of the little icons in my 'quicktask' bar. and i lived on the addressbar (which worked like a browser addressbar, so i could call up webpages and also any folder on my computer).. so all of that was good.
when i found that old screenshot, i also came across a screenshot i'd taken of one of my registry scans… so here it is…illustration of my relationship with my computer..sometimes ;) my computer and i mostly get along, actually. i think if i just had tons more space and tons tons more processing power (and good non-leaky, non-obnoxious applications) then the world would be a far more splendid place.
and that's that.