Would definitely make a solid xmas gift to yourself or someone you like/love
Have had my Cowon/iAudio D2 mp3/media flash player for a few days.. wanted to post a review the first night.. putting aside this pocket of time to do it.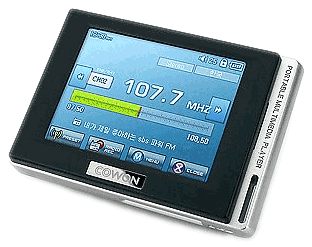 Mine's black. Comes in white and red, too, I believe.
Mine's 4gb. Comes in 2gb and 8gb also. I reasoned that I would get the 4gb and then collect 4gb SD cards. That's working out really nicely.
Plenty of pictures, spec-sheets, hands-on reviews, youtube reviews on the 'nets, so I'll just throw my own opinion/experience in..
impressively beautiful image quality on the

LCD

screen
excellent sound as characteristic of Cowon/iAudio devices
real buttons for volume controls rather than part of touchscreen
it's very compact
expansion slot means I can insert my 4gb SD card (or other sizes) and run new media simply and easily — the player finds your music across the board, and generally finds the other files across internal and external media as well.
FM radio (and FM radio recording) (like all Cowon devices. what the heck is wrong with you, Apple?)
great sound/equalizer control (like all Cowon devices)
voice recording (like all Cowon devices)
reads wide range of media formats (like all Cowon devices)
reads text files
view your pictures/photos, zoom in, set as wallpaper on the screen
a little "notepad" utility that actually is more like a drawingpad — draw on the screen with your finger
latest firmware upgrade (2.51) also included calculator and scientific calculator apps
runs quickly and easily
very reasonable pricetag (check pricegrabber) or Newegg
dynamic playlist for music and dynamic bookmarking for all media (text files, movies, etc.)
recharges via AC adapter or through

USB

connection to your computer
perfect plug-and-play portable harddrive
comes with JetAudio software free but

YOU

DO

NOT

HAVE

TO

USE

IT OR

INSTALL

IT ON

YOUR

COMPUTER

EVER

(*cough*iTunes*cough*)
works on Windows,

MAC

, Linux
Look at the specs — that's just happy
Notes:

Touch screen responsiveness is very good for fingernails and fine points — not as much for full-finger contact. I take it back — the D2 responds to fingertips too. I just typically use my fingerails anyway.
Accepts

AVI

/DIVX files (and others) but will probably need to run them through the jetaudio video converter (free download from their website) to clean up the compression so that it will play smoothly and may compress the file further too. The software works quickly, cleanly. I don't use JetAudio as a player. just the video converter to do its thing.


My biggest complaint is that it does not have built-in speakers.
And, if I'm being nitpicky, they could have included extra screen protectors like they used to with other iAudio products.
If you're looking for something with internet connectivity, etc., check out the brand-spanking new Cowon Q5W
…now I just have to figure out an ideal ultra-compact/high optical zoom digital camera…